Directions for Pre Enrollment: Log in to the gradebook To login into gradebook: go to rolandschools.org in the upper right corner click on gradebook. If you don't know your username you may use your school email and click sign in with Google. If this gives you a message saying your account is not associated see your site secretary. Once you have logged into gradebook on the right side you will see Course Request. Click Course Request. This will show you the classes you have already requested. To add courses: in the right corner click Add Courses. This will open a list of available courses. Scroll through the courses until you find the course you would like to add and then if the priority box is active you MUST set a unique priority number. (There can only be one, 1.) Courses with no priority mean they are required courses and get priority over numbered courses.

Attention RHS Sophomores and Juniors: The National Honor Society application for the 2021-2022 school year is now available. You may pick one up from the front office of the high school or access the following link for an online submission. Application is due by Friday, April 30th. Please email Mrs. Benefield if you have any questions.
https://forms.gle/EVcouJv3kpydXQQ99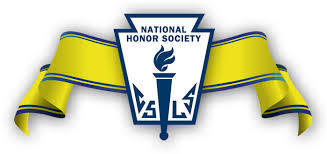 Roland High School prom is scheduled for May 1st from 8pm-11pm. It will be held at Notus Farmhouse in Muldrow, Ok. Covid-19 measures will be in place and all participants must wear a mask. In addition, no food will be served, but bottled water will be available. Formal and semi-formal dress is allowed. Prom is open to all Roland Junior and Senior students free of charge. If a student would like to bring a date from another school they will need to purchase a ticket. All outside dates need to be at least a sophomore student. Roland sophomore students may attend prom with the purchase of a ticket. Tickets must be pre-purchased from Mr. Richards at the high school by 3pm, Friday, April 23rd. Ticket purchases will not be taken at the door and there will be no late ticket sales. Ticket prices are $25. If you have any questions please email Mrs. Kensey Richards.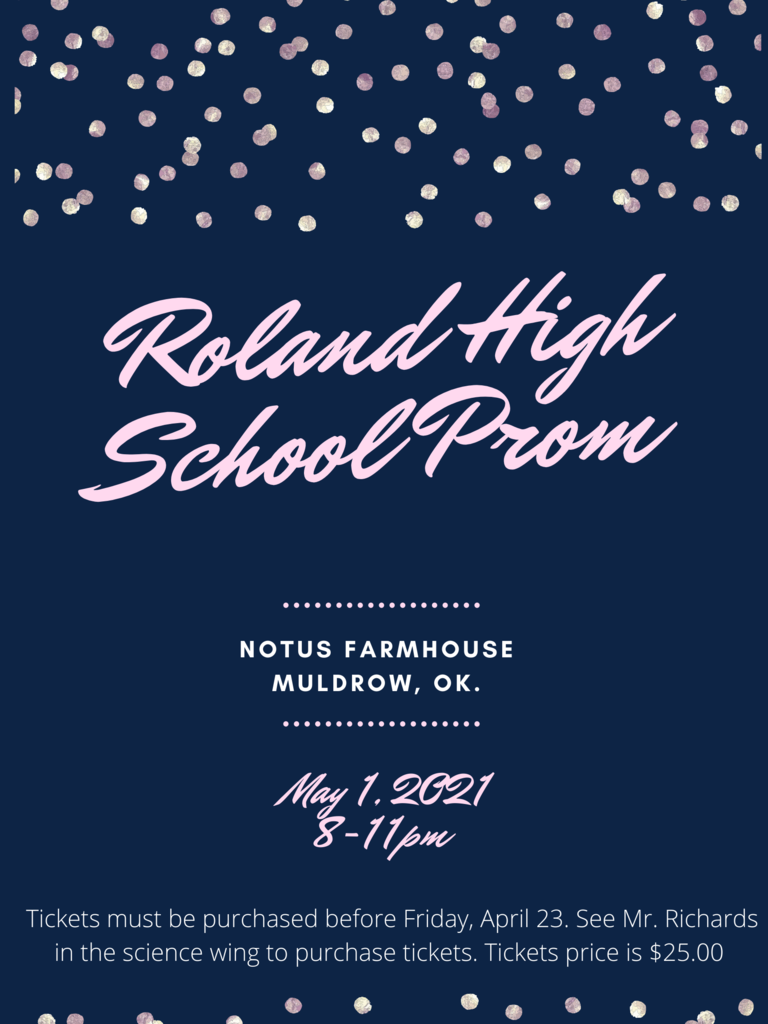 Upper elementary students have started state testing. Third grade begins April 5. Fourth grade will test the week of April 12. Fifth grade will test the week of April 19. Note: If your child is enrolled in virtual school their teacher will contact you to make testing arrangements.
Attention Roland High School Seniors!!! All Seniors who plan to graduate in 2021 must attend a mandatory meeting in the high school commons on Thursday, April 8th at 11 am.
Congrats to our JH Baseball team. We pulled off another win today to end the Vian tournament!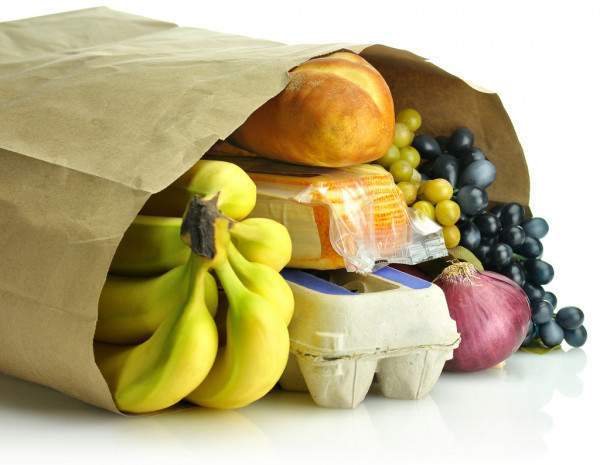 The Roland High School Track & Field team competed with upwards of 30 other schools in the Heavener Invitational Track meet today. In the boys division: the 4x100 meter relay team placed 6th. The 4x200 meter relay team placed 6th. Carson Wiggins placed 4th in the high jump. Hunter Taylor placed 4th in the long jump. Jaxon Fouts placed 6th in the 200 meter dash. Drake Davis placed 5th in the shot put. Everett Bergwall brought home a 3rd place medal in the shot put. In the girls division: Ke'leah Massey placed 6th in the 400 meter dash, and 5th in the 800 meter run. Brooklyn Hallbauer placed 6th in the 200 meter dash, and brought home a 3rd place medal in the 100 meter dash. These kids are great competitors. Congratulations to all of them.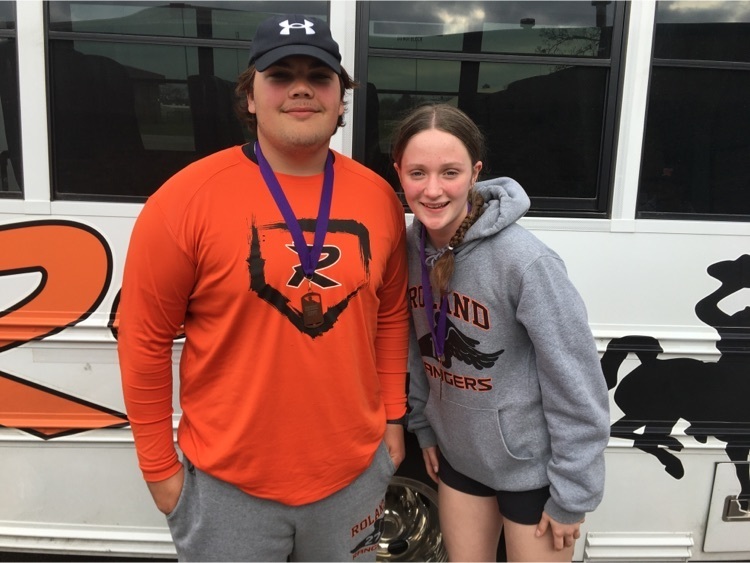 ​RMS 7th/8th track teams traveled to Checotah JH for their first track meet on Monday, March 28. Coach Cantrell and his team found success as they brought home multiple medals and the 8th grade boys team placed 3rd overall. The following 7th grade students placed in the following events: Braxton Prewett-1st in discus & 2nd in shot; Damarion West-2nd in 400m, 5th in 100m & 5th in long jump. The following 8th grade boys placed: Daviune Minor-4th in high jump; Tristan Palmer-5th in 100m; Bryson Root-3rd in 100m & 5th in 200m; Michael Taylor-2nd in shot, 3rd in discus, 3rd in 200m & 5th in 100m. Congratulations to these boys and Coach Cantrell! We would also like to thank Mr. Brant for driving and helping get all of the competitors to their events on time!

RMS State Testing Information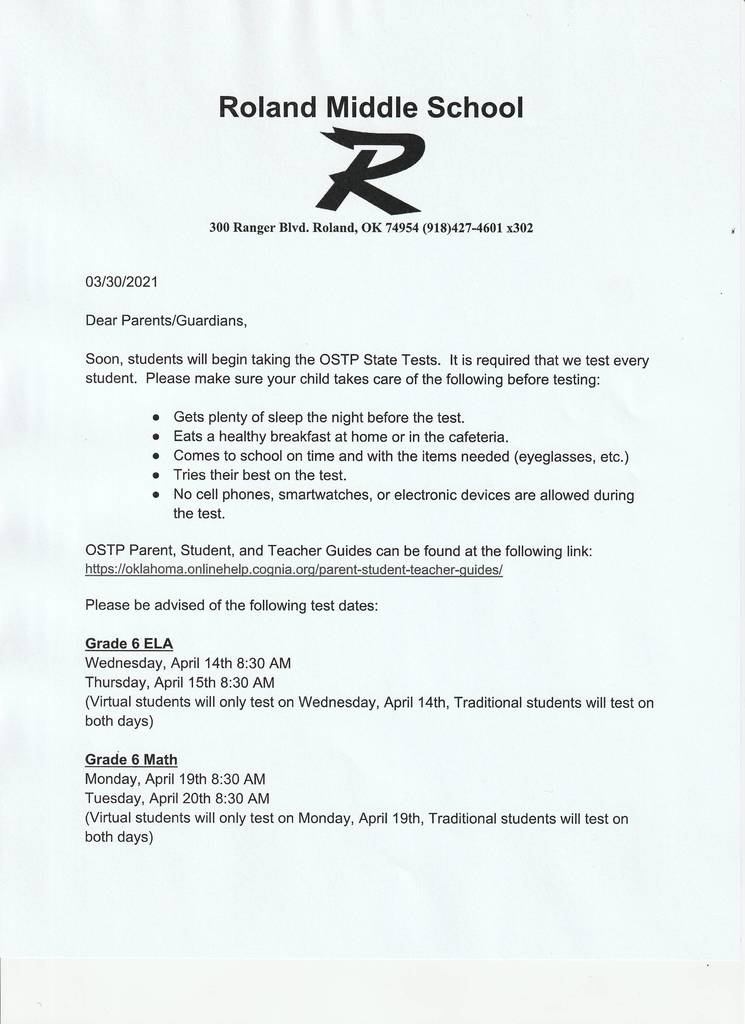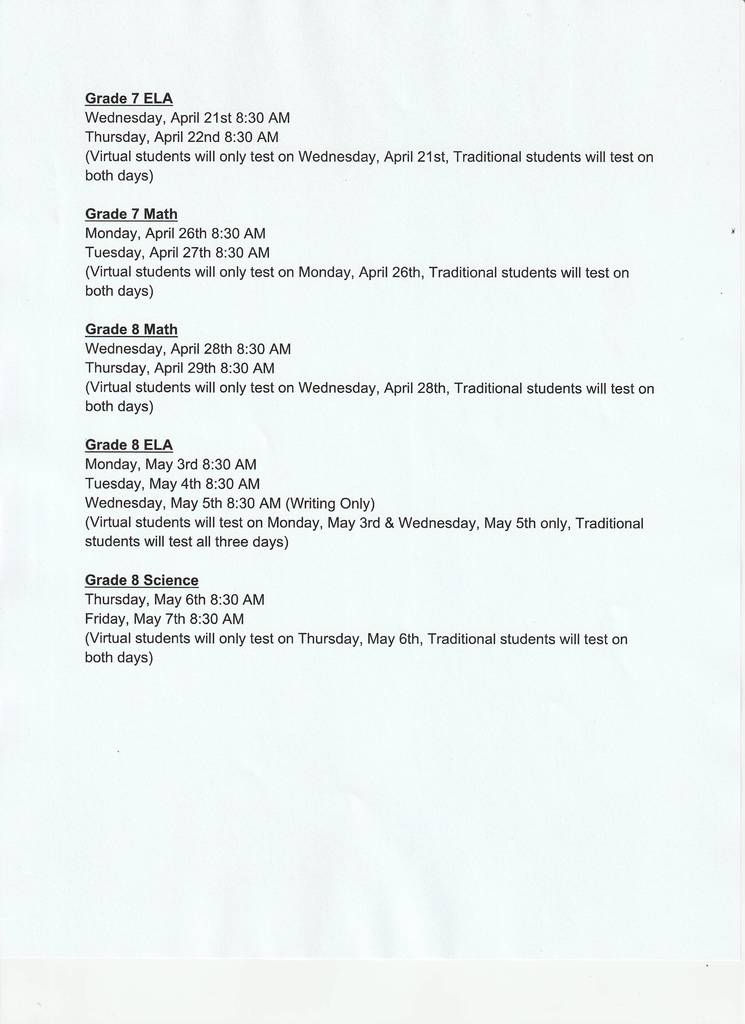 Attention Seniors: Please check your school email and fill out the information form for the graduation section of the Sequoyah County Times Newspaper. All completed forms will need to be emailed to Mrs. Watson no later than April 7, 2021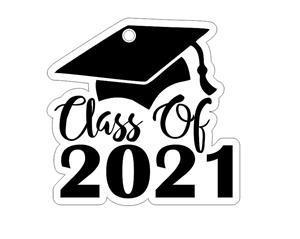 Ranger Fans get your tickets NOW... OSSAA.com and support the Lady Rangers as they play for 3A State title tomorrow night at 8 PM vs Jones
http://ossaa.com/


Juniors Per the state of Oklahoma, every junior in the state must take the ACT, science and history test. The ACT will be given on April 7th starting at 8:30.  Students who are taking the ACt with Mrs. Leuty need to get with her to schedule your ACT.    This ACT is with writing and will take most of the day.  Students will not be allowed to leave until time expires.  Lunch will be provided, however if students want to check out for lunch, they may as long as they are back by the start time of the remaining test.   This test is REQUIRED by the state.  Due to this being a virtual day only the Juniors will be here.  Attendance is mandatory!!

Ranger fans here is the information for purchasing tickets for the State Basketball Tourn this week. Tickets can only be purchased per game and are $5 each. No OSSAA passes are allowed. The Lady Rangers will play Valliant at 2 PM on Wednesday. Please feel free to let all of your community supporters know that tickets for the quarterfinal games will go on sale to the general public online only also at 9:00 am Monday morning March 8, 2021. All they have to do is go to our website at
www.okstatefair.com
in order to purchase their tickets.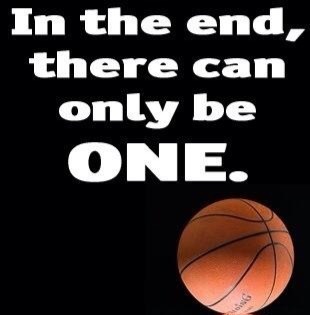 Ranger Fans, if you are planning to travel to Henryetta for the Area basketball tournament, tickets will be sold at the door and are first come first serve until they reach capacity. OSSAA playoff protocols will be in effect which means masks are required. The Runnin' Rangers play Spiro Thursday at 3 PM and the Lady Rangers game is set for Friday at 6 PM as they take on Hugo. Go Rangers !!!!!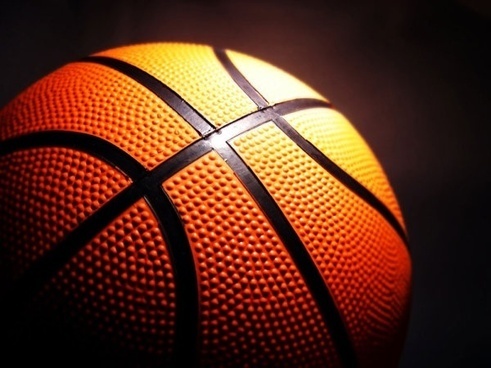 Parents of 8th grade students: Based on Section 6-107.3, Title 47, of the Oklahoma Statutes, any person under the age of 18 years wishing to apply for a driver's license or permit must demonstrate a satisfactory reading ability at the 8th grade level. Students must therefore successfully complete the 8th grade state reading test or alternative test approved by the State Department of Education. Please be sure that your student completes all school work and encourage him/her to do their best on all of their state tests.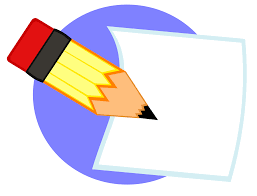 Today's MS baseball games have been rescheduled for tomorrow, Tuesday, March 2. There will be two games played on March 2nd starting at 5:30 pm.
The OSSAA Regional Basketball Tournament will have limited tickets sales. We have a limited number of vouchers remaining for the general public. Limit 4 per family. Game ticket vouchers are available today only at the high school commons area from 6PM to 8PM. Everyone wanting to enter the games will need to get a voucher and must pay at the door. These vouchers are valid for all 3 days so please don't lose or misplace them because we will not have an replacement vouchers.

Roland Public Schools will be back to normal hours on Monday, Feb. 22nd. However, to provide our teachers and staff the opportunity to participate in a countywide educator vaccine clinic we will have a VIRTUAL DAY on Tuesday Feb. 23rd.